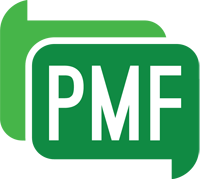 The PMF is run by experienced professionals and is free to join.
It was originally created by the Association of British Theatre Technicians (ABTT) and the Stage Management Association (SMA) in 2000 and is still actively promoted and supported by both organisations, and by theatre and live events companies and suppliers.
The PMF aims to:
share ideas and knowledge
support and promote best practice within production and technical management
give access to up to date information, legislation and codes of practice
connect Production Managers with each other through this website, social media channels, regular forums and social events
produce a regular newsletter
advertise relevant job vacancies via this website and our social media channels
develop a Support Hub of individuals and suppliers, to provide regional support and local knowledge
provide mentorship schemes for young and aspiring Production Managers
See our Mission Statement for more details
The first Annual General Meeting of the Production Managers' Forum will be at the National Theatre at 2.30 on Friday 17th January 2020. All PMF members are welcome. The AGM will be followed by a Social. More details to follow in the New Year. Wishing everyone a...
read more
FIXED-TERM CONTRACT, 23 MARCH 2020 – 1 JUNE 2021 WE HAVE A VACANCY FOR A PRODUCTION ASSISTANT TO PROVIDE SUPPORT TO OUR PRODUCTION DEPARTMENT IN THE REALISATION OF OPERA AT GLYNDEBOURNE, ON TOUR AND OTHER PERFORMANCE SPACES. Working with the Production Managers, you...
read more
Star Entertainment are looking for a touring Production Manager to manage the daily running of the production, including managing technicians and cast. Starting immediately, touring Germany. Travel and accommodation arrangements: Travel and Accommodation and Food...
read more
We are recruiting for a new Project Manager to join our busy projects team. The successful candidate will be working alongside our Head of Projects and Projects team to build upon our dynamic, agile and energised department. The successful candidate will become part...
read more
Derby Theatre is currently entering an exciting phase in its development and will be expanding its staff team over the coming months. We are now looking for a new Head of Production to lead the Production team and oversee all aspects of managing our venue and...
read more
Footprint are designers and makers in the entertainment and retail sectors. We are looking for a freelance draughtsperson for project based drawing work for January 2020. AutoCAD is essential, Rhino and ArtCAM preferable. The job will entail preparing clear and...
read more
The Gate theatre is looking for a Production Manager to work on Trainers… by Sylvan Oswald. The Production Manager is responsible for the planning and physical realisation of the production. You will work with the show's Creative Team to collect, collate and oversee...
read more
Manchester International Festival is currently seeking Freelance Production Managers to work on Manchester International Festival shows and events for our 2021 Festival and beyond.  Working in Manchester for the Festival 1st to 18th July 2021, then possible...
read more
Brent 2020 is seeking to recruit a production and event management company to work with the in-house producing team on the logistical and technical delivery of 'the Kilburn High', our mile-long street party, taking place on the Kilburn High Road on Saturday 11 July...
read more
Derby Theatre is currently entering an exciting phase in its development and will be expanding its staff team over the coming months. We are currently looking for a Head of Stage to be responsible for delivering all technical staging aspects of all productions and...
read more
We are looking for an experienced and approachable Head of Production & Technical to lead our Production & Technical team. The person in this role ensures the highest standards of production support are delivered to emerging and established artists, as well as...
read more
We are looking for a Production Manager with experience in theatre touring shows in multiple venues throughout the UK. Technical knowledge is required as well as extremely good organisational skills. The tour we would require you for would be our Ellen Kent UK and...
read more
A Production Manager is required to look after all of our Public Productions on the MA Music Theatre and MA Acting courses. Hours are by arrangement outside of the core production weeks noted above. All the shows take place on campus in our Embassy Theatre (Prosc...
read more