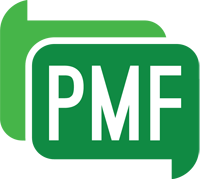 The PMF is run by experienced professionals and is free to join.
It was originally created by the Association of British Theatre Technicians (ABTT) and the Stage Management Association (SMA) in 2000 and is still actively promoted and supported by both organisations, and by theatre and live events companies and suppliers.
The PMF aims to:
share ideas and knowledge
support and promote best practice within production management
give access to up to date information, legislation and codes of practice
connect Production Managers with each other through this website, social media channels, regular forums and social events
produce a regular newsletter
advertise relevant job vacancies via this website and our social media channels
develop a Support Hub of individuals and suppliers, to provide regional support and local knowledge
provide mentorship schemes for young and aspiring Production Managers
See our Mission Statement for more details
We are really excited to announce the new Production Managers' Forum Mentoring Scheme. Whether you are new to the industry, in training or currently working in another area looking to move into production management then the mentoring scheme is for you. When you sign...
read more
A Production Manager is required to look after all of our Public Productions on the MA Music Theatre and MA Acting courses. Hours are by arrangement outside of the core production weeks noted above. All the shows take place on campus in our Embassy Theatre (Prosc...
read more
Sadler's Wells is a world-leading dance house – a place where artists come together to create dance and where people of all ages and from all walks of life come to experience dance. At the heart of Sadler's Wells is a spirit of creative innovation and artistic...
read more
LEADING WEST END, NATIONAL and INTERNATIONAL INDEPENDENT THEATRE and FILM PRODUCTION COMPANY is seeking to appoint skilled and committed theatre professionals to work at its London head office as part of its expanding team: Production Manager - Responsible for...
read more
As one of the most exciting and adaptable venues in London, this is a unique opportunity to engage with visiting companies and producers across a wide range of productions. The Production Manager will be responsible for the planning and successful delivery of all...
read more
We are Broadsword Event House, a creative event production agency. We innovatively design, carefully plan and expertly deliver immersive live event experiences. We offer total event production for every type of audience. London based and Award Winning, we were crowned...
read more
Coventry City of Culture Trust was set up in 2015 to bid to be UK City of Culture in 2021. Now that we have been successful in securing the prestigious title, we are recruiting the team ready to deliver an amazing build-up programme, an ambitious UK City of Culture...
read more
Storyhouse in Chester is the country's most exciting new arts building and organisation. The £37m theatre, library, cinema and restaurant is part producing theatre, combined arts organisation and inspirational library, which opened in May 2017. We also run events such...
read more
Punchdrunk is recruiting a Production Manager position to oversee and manage all the production processes and departments of the charity's activities. Type of Position: Permanent Full Time Rate of Pay: £32,000 - £35,000 Anticipated working hours: Monday - Friday -...
read more
Theatre by the Lake is seeking to appoint a Head of Production to be responsible for the effective staging of all productions on Theatre by the Lake's stages, with co-producers, and on tour; overseeing all equipment and staffing and playing an integral part in the...
read more
Theatre503 are looking for a Production Manager to work on 503Panto by Louise Beresford and Anna Spearpoint.  You will work with the show's Creative Team and in-house Technical Manager at Theatre503 to collect, collate and oversee all technical aspects of the...
read more
Jordan Productions are seeking a Production Manager a pantomime this winter. POSITION: Production Manager RATE OF PAY: £1500 flat fee, negotiable DATES: Fit up starts: Monday 2nd December Tech starts Monday 9th December Opening show: Friday 13th December. LOCATION:...
read more
The Albany is looking for a versatile and experienced senior manager to oversee our performance venues and lead the technical team to deliver our year-round creative programme. This is a highly collaborative role with a strong focus on managing budgets and resources...
read more